Case Study, Glass Balconies, Hemel Hempstead
Case Study, Glass Balconies, Hemel Hempstead
Glass Balustrades | Juliet Balconies | Curved Glass Doors | Decking | Projects | Galleries | Articles | Reviews
Bury Road, Hemel Hempstead
Developer: Unicoin Homes Group Plc
Contractor: Unicoin Homes Group Plc
Clear glass balconies with aluminium handrails enhance the clean contemporary building design of newbuild apartments in Hemel Hempstead. Balconette supplied external and Juliet balconies for the three and four-storey blocks comprising a total 51 dwellings at Gadebury Heights in Bury Road.
Developers Unicoin Homes Group Plc opted for the cleaner lines of glass balustrading, as opposed to railings, to complement the buildings' modern external appearance.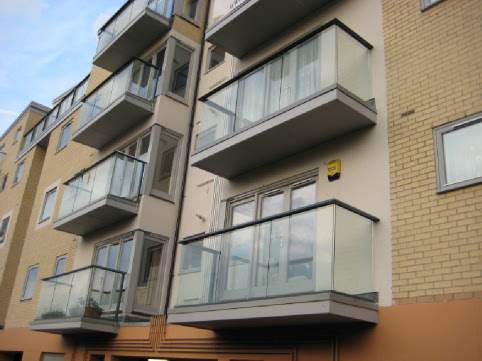 Versatile and cost-effective, the Balconette system also brings considerable benefits for residents. They benefit from a low-maintenance balustrading solution, together with more natural light inside and a clearer, unobstructed view to the outside.
Balconette's sophisticated balustrading solutions offer an inspirational alternative to conventional structural glazing systems. At around a third to half the cost, the proven system meets all the challenges of beauty, safety and value to retain a clear panoramic scenic outlook.
Strong and simple to install, the maintenance-free system allows greater freedom of design to enhance all property styles as a more aesthetic alternative to bars or railings. It is a uniquely different solution that does not require structural glass or posts as the aluminium hand-railing provides the required strength and support.
Commenting on the Balconette product, Unicoin's Construction Director Mike Taaffe says: "It looks good and complements the style of the building's exterior. Balconies are always an appealing feature as they add another dimension to the accommodation. The use of glass has the added advantages of retaining views and allowing more light into the rooms.
"As a balustrading solution, we're very pleased with the overall effect and a system we would consider using again in the future," he adds.
Sales Director for Unicoin Homes Group, Simon Sturt comments: "As well as enhancing the value and saleability of the apartments, the glass balconies also make them more attractive for the purchaser."
All external and Juliet balconies use 6063 T5 extruded aluminium balustrade, available in bronze, silver satin or any RAL colour finishes.