Frameless Glass Balustrades in Axtell House
Frameless Glass Balustrades in Axtell House
Glass Balustrades | Juliet Balconies | Curved Glass Doors | Decking | Projects | Galleries | Articles | Reviews
Axtell House, Soho, London
Glass balustrades add 'modern look' to iconic London property.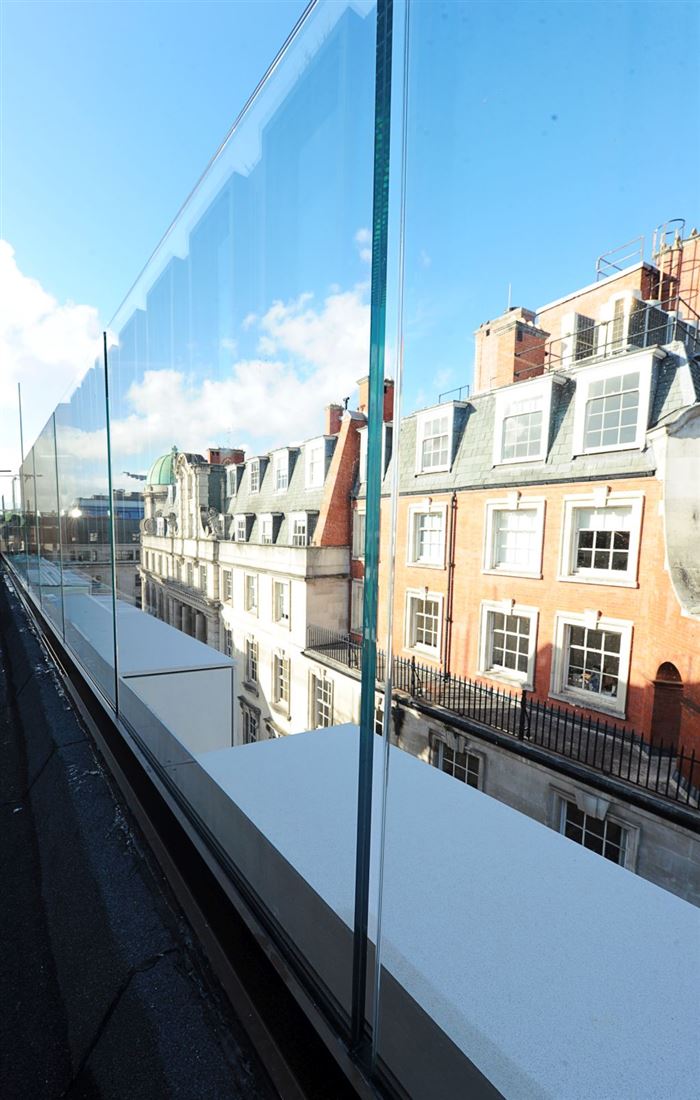 Frameless glass balustrades, supplied by Balconette, have been installed as part of the extensive redevelopment of Axtell House, a distinctive 1920s commercial property located within the Soho Conservation Area in central London.
The project included the demolition and replacement of the top three floors of the seven-storey building, creation of a new roof garden and terrace as well as comprehensive remodelling of its existing internal space.
Installation of 80 metres of Balconette's SG12 Fully Frameless system was carried out by Dmitro Facades, a South East-based cladding specialist. The company also installed skirting wall and new stone external panels for their client Red Construction Group.
Glass balustrades were specified by Darling Associates Architects to enhance light and add a contemporary appearance to the prominently-located building.
Commenting on the project, Taras Stasyuk, Managing Director of Dmitro Facades said: "The client specifically wanted to use balustrades in their design to make the project look modern. Therefore, their architect along with our designer worked closely to achieve this."
It was the first time Dmitro Facades had worked with Balconette, having been introduced to the balustrading specialist on approval of the client's design. Taras continued: "We specialise mainly in facades, steel framing systems and similar products. However, we're always willing to go that extra mile for clients and offer more services.
"Balustrades were something fairly new and therefore the challenge was to ensure that we delivered a quality installation. Careful attention to detail and working closely with Balconette on their installation instructions ensured we overcame that challenge successfully."
Impressed with the result, Taras added: "The glass balustrades look very good and bring a more modern look to any building."
Completed in 2018, Axtell House offers around 19,000 sq ft of prime office accommodation over its first six floors, plus a feature roof garden on the top level.