Glass balconies are a 'real asset to the property'
Glass balconies are a 'real asset to the property'
Glass Balustrades | Juliet Balconies | Curved Glass Doors | Decking | Projects | Galleries | Articles | Reviews
Constructed in just six months on a rural Hampshire plot, this impressive self-built five-bedroomed home boasts two sizeable balconies supplied by Balconette that take advantage of extensive garden and countryside views.
"We absolutely love the balconies; everybody says how great they look and they're a real asset to the property," say owners David and Lesley Lennox, whose custom design timber frame home from Potton was featured in a recent new Channel 4 documentary celebrating pre-fabricated construction techniques.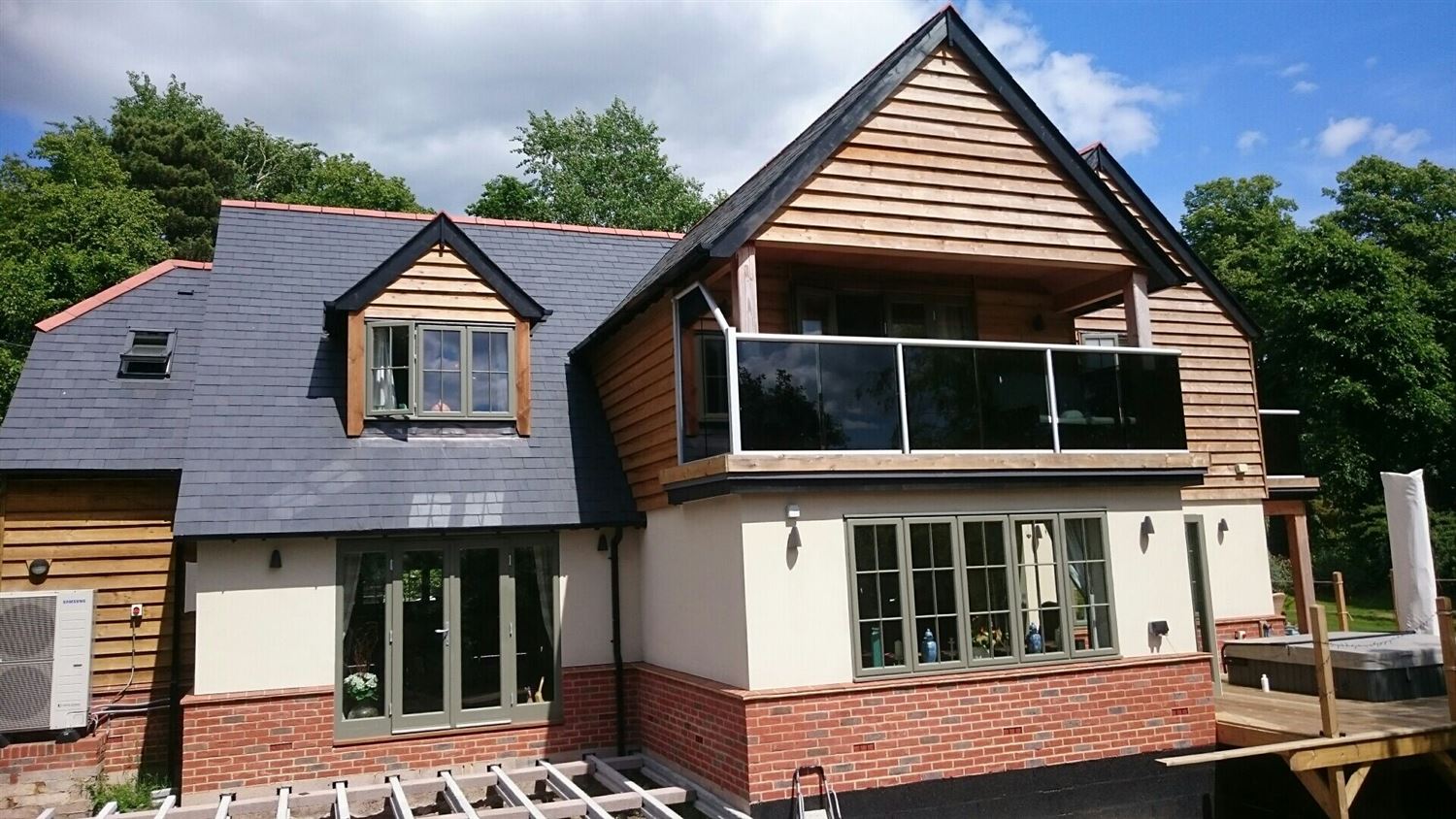 Their new dwelling sits on a one acre plot, formerly occupied by a 'rather rundown and poorly maintained' 1950s bungalow. "We were quite happy to say we bought the worst house in the village!" says David, a project manager.
The couple were familiar with Balconette's products, having installed a small clear glass balcony on their previous self-built home. "We very much liked this feature, so larger glass balconies were a key part of the specification for this project," continues David. "I budgeted based on what we spent last time and multiplied it accordingly. It was about right, although these balconies were more complicated than our last build."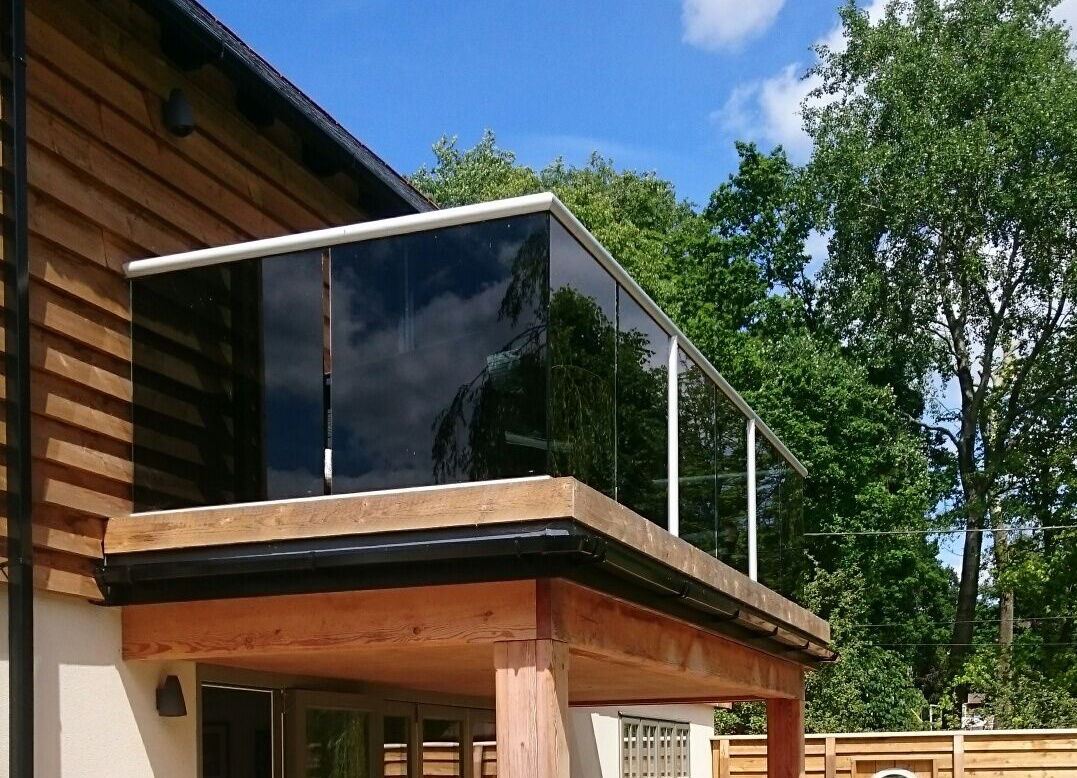 Having had clear glass before, they decided on a stronger different look this time. Architectural film was applied to one side of the glass panels to provide a 'smoked/tinted effect' that echoes black elements in the roof, such as the rafters and soffits. Planning conditions also required a privacy screen on one of the balconies. Here the film was applied to both sides of the glass making it completely opaque.
Installer Tim Green fitted the balconies, having liaised with Balconette's technical team over their design and final drawings. "One of the balconies is over the dining room so ensuring watertightness was a priority," says David. "Tim did a great job and everything was installed according to the schedule."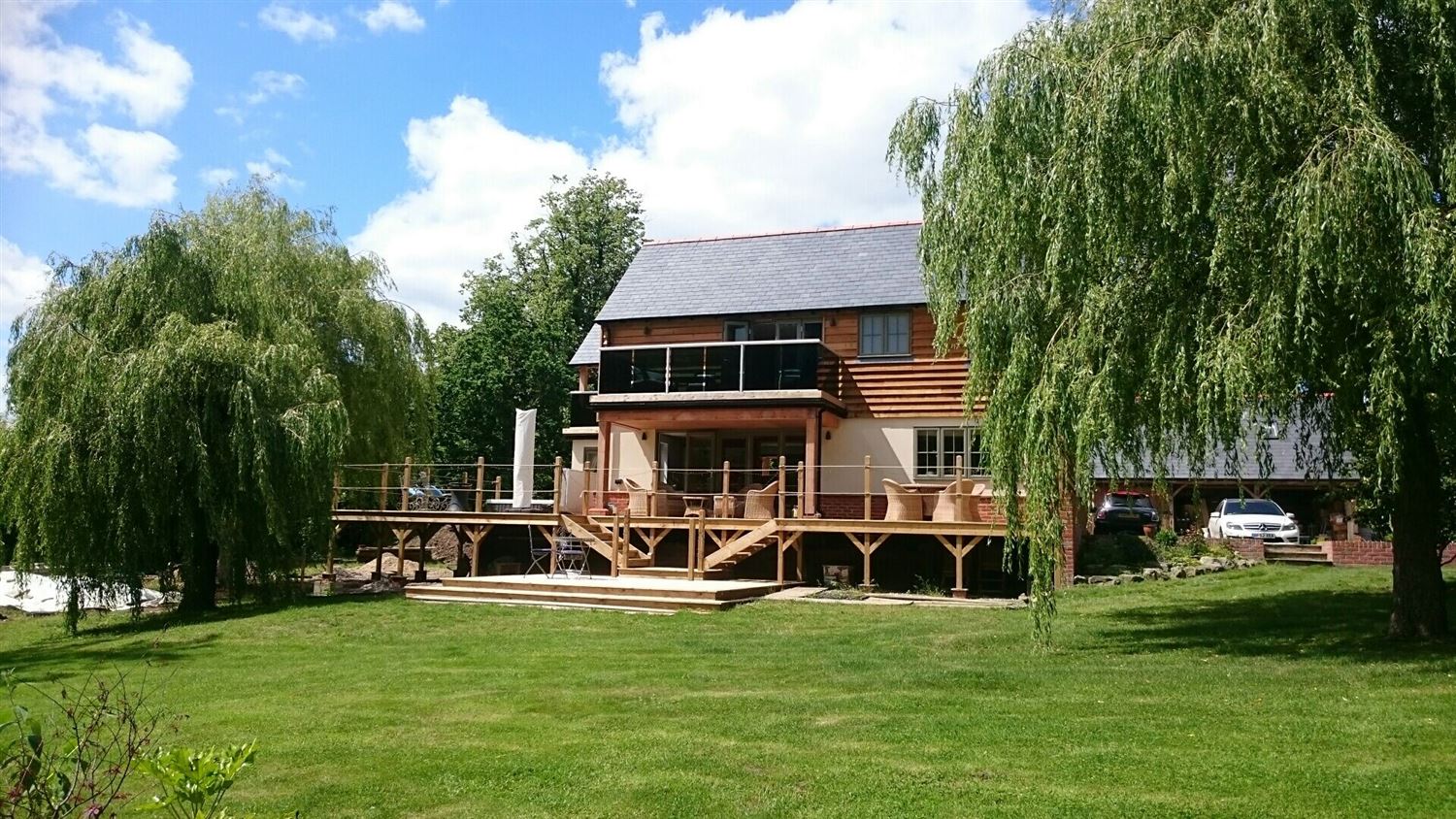 The whole build progressed smoothly, from the initial frame arriving on site on February 8 to the couple finally moving in on August 9 – 'even Potton said it was quick for quite a large house!'
Since then, the balconies have been well-used and are popular with visitors. "They're pretty much the first place friends and family head to when they come to stay; they want to go and have a look out over the balcony. My wife and I often go up there with friends to watch the sunset and relax with a glass of wine."
David would recommend Balconette to others saying: "I think it's a really good system. It ticks all my boxes and looks great. We've had lots of admiring comments and everybody praises the smart appearance of the balconies."
Work is now underway on completing a large wraparound split-level deck at the rear of the house, which will feature a further 20 metres of Balconette's balustrading to match the existing balconies.