Installing his own glass balcony, Case study, Poole, Dorset
Installing his own glass balcony, Case study, Poole, Dorset
Glass Balustrades | Juliet Balconies | Curved Glass Doors | Decking | Projects | Galleries | Articles | Reviews
Poole Bay, Dorset
Developer: Self Build Refurbishment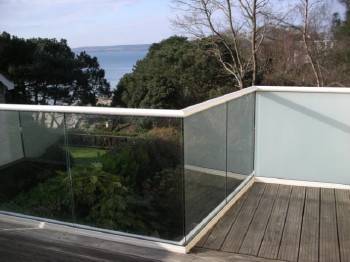 Self-installed at this detached house overlooking Poole Bay, glass balconies from Balcony Systems provide the perfect no-maintenance, corrosion-resistant balustrading solution for a harsh coastal environment and clear views to the ocean.
Pensioner Clive Crossley chose the easy-to-install aluminium balustrade and glass panel system to replace wrought iron railings that not only required regular painting, but obscured panoramic scenic views over the bay and beyond.
Clive, a 75-year-old retired chartered engineer, said installation of the 3m by 1.5m rectangular balcony and a larger angular design, both adjoining bedrooms, was simple and straight-forward. He completed the job in a total of 42 hours.
He explained: "The complexity of angles in the larger balcony measuring 2m by 3m and 4m presented more of a challenge. However, design assistance from Balcony's technical team helped to ensure the whole job went smoothly.
"The secure balustrading structure meant it easily withstood the worst of the January storms when wind speeds gusted up to 100mph! The system is ideal for a coastal environment as being aluminium and glass, no painting is required. And of course, we have a much clearer view of the sea."
Clive added: "We are really delighted. I think we have the best balconies in the area. The simplicity of the system is its beauty."