Self Cleaning Glass on Balconies, Customer feedback
Self Cleaning Glass on Balconies, Customer feedback
Glass Balustrades | Juliet Balconies | Curved Glass Doors | Decking | Projects | Galleries | Articles | Reviews
England, United Kingdom
We have been recording 100% positive feedback from customer that have ordered and received glass balustrades, glass juliets and curved glass doors supplied with our new and very popular self-cleaning glass coating.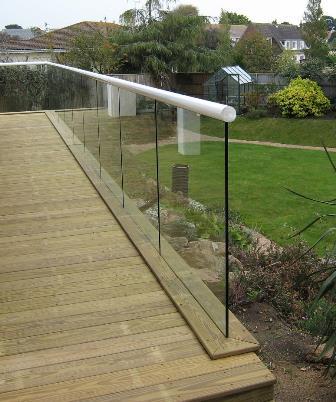 In the middle of 2010 Balcony Systems launched a new added benefit to its range of products - a nano coating that is silica based and is factory applied. This application creates a sort of "self-cleaning" coating on the glass that makes the glass super smooth and water repellant."From the moment you touch the glass you can feel the difference" comments one of the clients who goes on to say "The glass feels smooth as silk, I compared it to a regular pane of glass on one of my windows and you can feel the difference straight away"
curved doors and glass railings is always a problem. Despite the fact that glass looks like a smooth faced product it is actually very porous when viewed under a microscope. These pours get filled in with dirt, dust, oil and other deposits which will obscure the natural clarity of the glass. These will look like stains sometimes.
Hundreds of clients have already enjoyed the benefit of this product applied to their order. Balcony regularly contacts customers to get after sales feedback and make sure the client is satisfied with what they have purchased. We are receiving 100% positive feedback on the coating and here are just a few comments:
"By modifying two standard upstairs windows in our 1990s home to create French Doors with glass Juliette balconies, we can take full advantage of glorious countryside views. Whether standing or seated our field of vision now extends from our garden below through to the distant horizon and the sky. This has improved the look and our use of the house tremendously, particularly as our principal reception rooms are on the first floor.
We are very pleased with the Balcony System and absolutely delighted with how the new full length windows with their glass Juliette balconies have worked out. We were hoping that the balconies' aluminium top members would not appear obtrusive and any concerns have proved unfounded.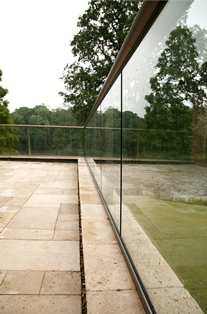 "The self-cleaning glass is a bonus - when a passing bird left a deposit, it was easier to wipe down afterwards! As we were originally planning to have a wrought iron balcony, having seen the excellent result in glass we're very glad we went down that route."
Mr. N.S. Droxford, Hampshire
"The self-cleaning glass does stay very clean. In the four months since the Juliette balcony was installed, I've not had to clean it. This glass was added half-way through the ordering process and I'm glad I've got it.
Living in a woodland situation, the air tends to be damper so the special coating on the glass that makes it resist water will certainly reduce maintenance to keep the balcony looking good."
Mr. P.M. Taunton, Somerset
"We're very happy with and have no complaints at all. We've had a lot of work done on the house and, despite this, the Juliette balcony with self-cleaning glass is keeping very clean."
Mr. N.D. Blaenau Gwent
"Self-cleaning glass was part of the specification for the Juliette balconies, so the fact we were able to source such a product was key for us. They will be installed on new apartments in the early part of 2011."
Mr. C.B. Tyne and Wear
The introduction of a self-cleaning glass coating option is proving popular with Juliette balcony and balustrading customers, especially for those living in coastal or city environments.
This maintenance-reducing benefit was the key reason why Mr. and Mrs. Jones chose the Balcony Systems Juliette balcony for their new-build home at Harlech, North Wales.
"The self-cleaning glass definitely influenced our choice of balustrading as our house is in an elevated position overlooking the sea," comments Rhian. "It's very windy so we often get fine salty and grainy deposits carried in the air. This glass certainly helps to reduce the amount of cleaning we have to do - leaving us more time to enjoy the view."
She adds: "Not only does the Juliette balcony look great from the inside and outside, it's easy to look after too."
"Overall we are very pleases with the results and the market reactions with this introduction" says Mr. Effi Wolff, Managing Director of Balcony Systems. "We believe in always pushing forward and improving our service and products; the introduction of the self-cleaning coating is a substantial milestone in the market of glass railings and glass doors"
The coating is available on every one of Balcony Systems' products - namely custom glass balustrades, glass Juliet balconies and curved sliding patio doors and is applied to both sides of the glass.