BALCONANO GLASS COATING:
PRODUCTS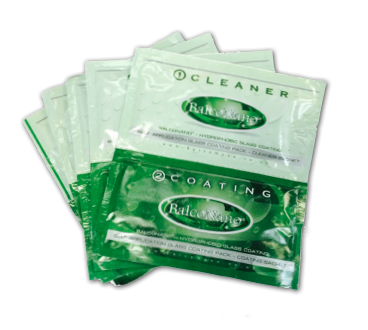 These self-application 'wet wipe' sachets have been designed specically to be applied easily at home. One sachet covers roughly one square metre and once applied, there is no need to use chemical cleaners and harsh chemicals.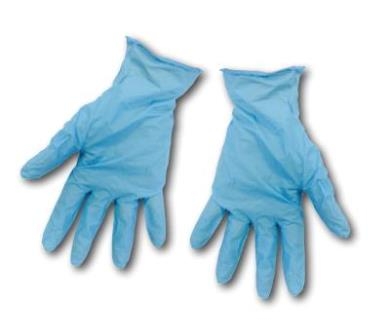 Nitrile gloves are known for their superior resistance to chemicals and they fit tightly on the hands, making it very easy to do delicate work. Our latex-free gloves are used in labs and the automotive industry, as they are more resistive to oils and acids than natural rubber and are perfect for deeply cleaning and coating glass.

Read more
Technical Data for our Glass Cleaning Products
While the exact formulas for our glass products are a trade secret, in our linked documents below, you can see the material safety data sheets for the cleaning and glass coating products.
Included you can read up on the material's physical and chemical properties as well as how to handle and store these products. You will also find first aid advice and more.
Balconano Glass Cleaner

safety sheet

Balconano Glass Coating

safety sheet
Balcony Systems' BalcoNano products
Glass isn't totally smooth but at our online glass coating shop, you can buy exactly what you need to "fill in the holes" and make your own self cleaning glass. The top of our double sachets help you to thoroughly clean the glass and the bottom has the self cleaning glass product itself. Each sachet cleans and seals 1 square meter, or 11 square feet and is available right here at our glass coating shop.
Turn your ordinary glass in to Self-Cleaning Glass
Apply a self-cleaning glass coating to any glass and transform it. Use the new BalcoNano sachets to create a hard resistant protective surface and reduce maintenance Use the BalcoNano sachets on your glass windows, shower glass, externally on the windscreen of your car or in fact on any glass or silica based product.
Please avoid surface contact with water within 10min after coating process Streak residues can be removed through polishing with a dry cloth Do not use at ambient temperature above 50°C and below 5°C Do not use at high air humidity (e.g. foggy, rainy) It is important to read carefully the instructions and follow them to correctly achieve a desirable result.
Technical Safety Data Sheet for "Cleaner" Technical Safety Data Sheet for "Coating"
How self cleaning glass works​