WHAT COLOUR OPTIONS ARE AVAILABLE ON THE DOORS?
---
CURVED DOORS - END OF PRODUCTION
Please note that due to a refocusing of business priorities and expansion of our balustrade business we no longer manufacture curved sliding doors (the Curvaglide® range).
We continue to offer support to previous buyers of our doors, and all documentation and installation guides are available in the pages linked here.
For our existing Curved Door clients, should you need to contact us, please call 01342 410411, or email enquiries@balconette.co.uk quoting your order details, and we will be back in touch.
---
What Colour Options are Available on the Doors?
​
Curved Glass Patio Door Colour Options
The Curvaglide® curved doors can usually be powder coated to any standard RAL colour. Powder is not always available for every colour or gloss level required, so best to check with us and we will be able to confirm availability. Some colours can be powder coated in extra durable marine grade powder coating which will be the ideal option for doors required in a seaside or marine environment.
Related FAQ Videos: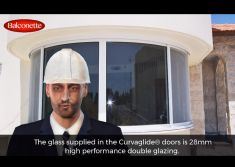 ​
What Type and What Thickness of Glass Do You Supply?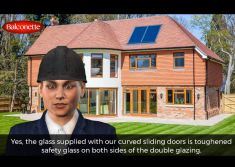 Is the Glass Used in the Doors Safety Glass?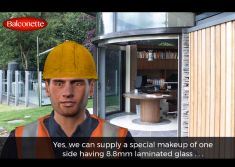 Are You Able to Have Laminated Glass on One Side of the Double Glazing?
Related Links for Further Information:
Curved Door ConfigurationsInstallation GuidesTech Specs
Get a QuoteGet a BrochureBack to FAQs