What is a Glass Stair Railing?
What is a Glass Stair Railing?
Glass Balustrades | Juliet Balconies | Curved Glass Doors | Decking | Projects | Galleries | Articles | Reviews
Glass Stair Railing Defined
A glass stair railing can be defined as a run of glass with a handrail on top, alongside a flight of indoor or outdoor stairs. It is a fairly modern invention made possible by glass toughening techniques. It is a glass balustrade for stairs and we have been specializing in glazed balustrading at Balcony Systems for many years.
More about glass balustrades for stairs >
What are Balcony Systems' Option in Glass Stair Railings?
When using the word railing, one is often referring to balustrades for stairs, so this is where we'll start.
Glass Railings for Stairs
For balustrading going up the side of a staircase, we offer a glass balustrade with a handrail on top. Our handrails are made of anodised aluminium and our most popular finish looks like stainless steel (but unlike so-called stainless steel, it is maintenance-free because it truly doesn't stain). Here is a link to the different finishes available for the handrails of our glass railings for stairs. We provide glass balustrading for interior and exterior staircases.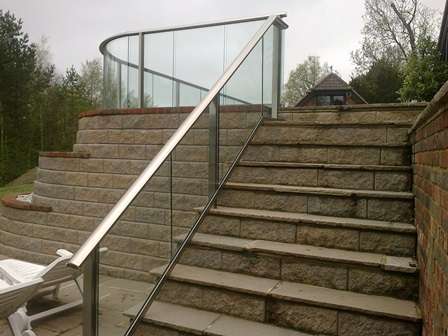 What Else Do You Do?
As this is where we are the best known, here we can provide the biggest options.
We supply a completely frameless glass balustrade, a semi-frameless glass balustrade and a traditionally rounded handrailing system as well as our more modern hydrofoil handrailing system.
In addition, we supply our balustrading handrails in white, silver, bronze or our proprietary Royal Chrome (which is designed to look like stainless steel but requires no maintenance to continue looking good. We can also provide bespoke colours.
The glass itself comes in a choice of the following tints:
Clear
Green
Blue
Grey bronze.
We highly recommend our economical factory-applied double side glass coating which greatly minimizes cleaning for up to two years.
In addition, we provide bespoke curved balustrades that are carefully made and then the anodized aluminum handrailing, is made to fit the curved glass so that it is as close to perfectly fitting together as possible.
Glass Railings for Decks
All of the above options are also provided for decks. Here are the full details
We also supply a fabulous array of top-quality composite decking materials.
Other Applications for a Glass Railing
More and more, people are asking for applications of our glass railing systems, such as for privacy barriers on a shared balcony or garden, or for safety around a pool. The applications are endless and growing, so if you think you might need such railing in glass, please don't hesitate to contact us.
If you have any further questions about your options in a glass railing system, or would like our up-to-date pricing, please call 01342 410411 or click on the button below for a quotation!