Stainless steel handrail in a marine environment
Stainless steel handrail in a marine environment
Glass Balustrades | Juliet Balconies | Galleries | Articles | Case Studies
One of the most important reasons to introduce a handrail is to increase the level of safety and when you are on a boat or any area which may have a wet floor surface, safety is paramount. The introduction of handrails can have a massive impact on the safety of the area and provide a greater degree of confidence for some people. Knowing the fact that there is a bar to hold on to will make people feel more comfortable about being in this position, helping them to enjoy their time on the boat or by sea.
There are so many areas that would benefit from a stainless steel and although a boat is the obvious area, there are many places to introduce this style of rail to. Swimming pools can greatly benefit from this style of protection as can aquatic fun-parks, dockland areas and sea ports. It is also possible to install stainless steel handrails in the home, with many people having a rail by the bath or shower area. The fact that these rails provide a greater degree of assurance while looking great means they are adaptable enough to suit a variety of situations.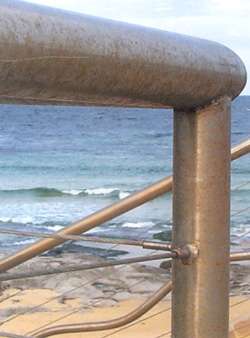 Stainless steel handrails look great
Another reason for installing stainless steel handrails is that they look great. These handrails can really add a touch of class to the surroundings and when the sun light catches them, they add an additional touch of style and elegance to proceedings. It is quite often the smallest things that leave the biggest impression with people and having high quality stainless steel bars, guards and grips can create a lasting impression. Anything which helps a guest to feel as though they had a great day with tremendous service has to be worth considering and great looking handrails and barriers can play their part in achieving this.
Stainless steel is one of choices for handrails in marine areas because the metal is rust resistant to some degree depending on the grade of material and finish chosen. The more it is polished the less it will show teas stains or "rust". This is essential when you consider the amount of water that will be around but just because they are rust resistant, it is not a guarantee they will not rust. If the handrail is continually splashed with water, it is not uncommon for rust spots to appear on the handrails. If this happens, it is essential that these spots of rust are rubbed away or cleaned regularly. Failing to do these actions increases the likelihood of rust spreading around the handrail which may require the whole rail to be removed for extensive cleaning or replaced.
Proper care and attention is still required for stainless steel handrails
With proper care and attention, stainless steel handrails can last a long period of time but there is still a need to properly care for them. Any nuts and bolts should be examined on a regular basis to ensure that rusting is not occurring here and drying off the rails and then polishing them can be a great way to ensure their condition remains as strong as possible for as long as possible. Getting value for money from stainless steel handrails should not be an issue but with proper care and attention, the lifespan of these handrails can be vastly improved.
Corrosion is the enemy
It needs to be accepted that corrosion is the biggest danger to these handrails and if any rust or surface corrosion occurs and is not properly treated, it could lead to more serious problems. The unsightliness of rust is one issue that has to be considered but rusting handrails pose a serious health risk. Rusting steel rails are not able to provide as much support as rails in good condition and may not be able to sustain the pressure exerted on it by people leaning on a rail. This could lead to a collapse of the barrier or handrail, which could lead to people falling over and injuring themselves.
The size of the affected handrail will have an impact on the number of people that could be affected but it is important to ensure that corrosion is examined for on a regular basis with stainless steel handrails.
Stainless steel handrails have the ability to last a long time and are essential for raising safety levels in locations where things are likely to get wet. It is advised to regularly examine the rails for signs of corrosion or rust and deal with them quickly to prevent them spreading.
Anodized aluminium alternative
In the recent years a more corrosive resistant alternative has emerged in the market: Anodized aluminium. There are finishes that are very similar to stainless steel yet will not have any surface corrosion or "tea staining" as in stainless. One of these finishes is called anodized "Royal Chrome" which has become a very popular solution particularly for Balcony handrails in and around London's Docklands area.
Developers like 'Ballymore Properties' have chosen this type of material for its reduced maintenance requirement, versatility and looks for a residential development which included more than six hundred balconies at London's Crossharbour site.