Structural Glass Balustrades - Types and Method
Structural Glass Balustrades - Types and Method
Glass Balustrades | Juliet Balconies | Curved Glass Doors | Decking | Projects | Galleries | Articles | Reviews
Why a balustrade can be named a "structural glass balustrade"? And what differentiates it from other types of balustrades?
The answer is simple enough, yet there are many methods to actually implement this type of solution.
What is a Structural Glass Balustrade?
When the glass of a balustrade is not just used as an infill panel but is also used as the actual structure of the balustrade, it is often referred to as a structural glass balustrade. It is also sometimes referred to as a frameless glass balustrade or a cantilevered glass balustrade.
The basic idea is simple and is based on two engineering principles; a strong base that can clamp thick and strong glass panels that can resist the bending moments and loads imposed on it.
Since 2011 when BS6180 was revised, it is now possible to choose if one wants or does not want a handrail. The handrail or top section that is placed on the glass is meant to tie glasses together at the top, making the entire structure sturdier and more solid. It also must, be able to withstand the required load if one of the glass panels should break across the gap created. If one chooses to not have a handrail then laminated glass must be used, glass that can have one side break and the other side still be capable of withstanding the loads.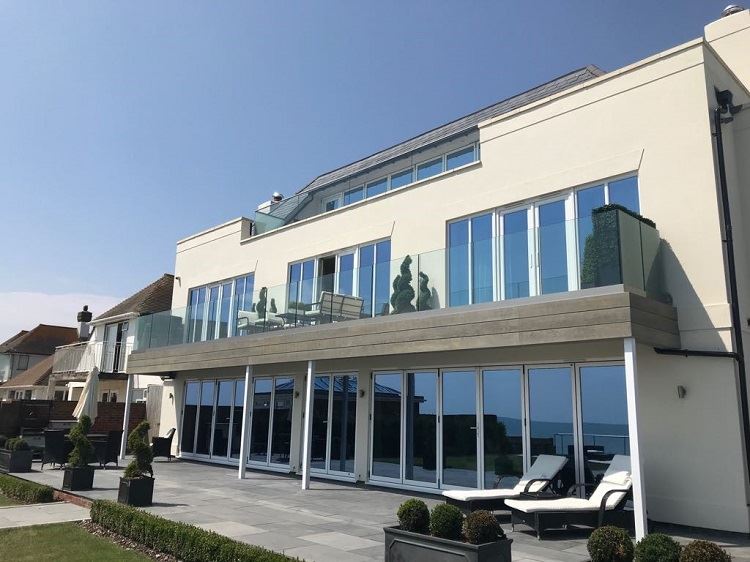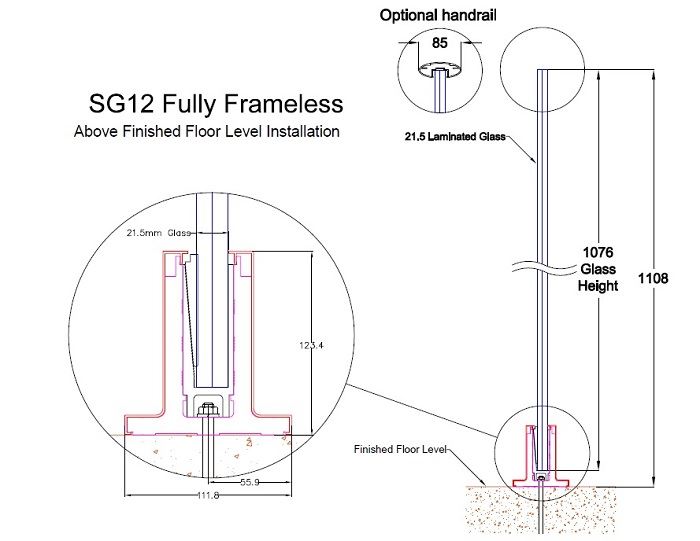 Fully Frameless Balustrade Section
The Base Section of the Structural Glass Balustrade
The base of the structural glass balustrade, also known in some systems as the "shoe profile", is the most critical part that requires much design attention. The basic idea is a strong "U" channel either made from two RSAs back to back, or using aluminium designed extrusions. The glass gets fixed in place either by epoxy (two part component glue) or sometimes by a cement-type material.
As a side note it is interesting to note that in recent years much innovation has gone into these systems and now you can have base profiles that use pressure-screwed clamps or hammered-in wedges that can forsake the use of cement or epoxy glue saving on the labour previously involved with setting the glasses, not to mention the dirty process of pouring epoxy into a small channel.
The base profiles can be fixed by various materials to the balcony structure, be it steel, concrete or other material. These base profiles and their fixings need to be purpose-deigned for every site to ensure the loading and fixings can indeed withstand the large loads that will get transferred from the glass panel.
The Glass Panel
Where most balconies or balustrade systems can utilise 10mm toughened (tempered) glass, structural glass balustrades require a much stronger glass panel.
A minimum thickness of 15mm toughened glass panel must be employed for structural systems with a handrail even for residential (single family dwellings) properties. When higher loading requirements are needed, such as public areas, bars, restaurants, discothèques and malls, thicker glass panels are required. 21.5mm and even 25mm toughened, laminated glass panels can be employed in such cases. Balconette's SG12 Structural Glass Balustrade system comes with 21.5 toughened, laminated glass as standard.
Because of the thickness of the glass required and the basic iron in standard float glass, when employing regular glass types a greenish type of colour is evident in structural glass balustrades a lot more than regular glass balustrade systems. This can be reduced by using "low iron" glass panels. However, one should note that these are more expensive.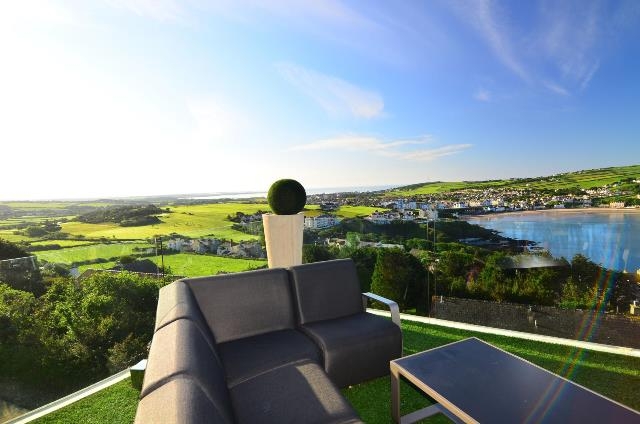 Can laminated glass be used on this type of balustrade?
The answer is yes but watch what thickness of glass you use. 17.2mm laminated toughened glass is by far not as strong as 15mm toughened and specific calculations MUST be undertaken before choosing the correct makeup of the laminated panel, sometimes using a combination of heat strengthened on one side and toughened glass on the other side of the laminated panels.
Heat Soak Test
It is recommended, however not mandatory, to have glass panels used in structural glass balustrades undergo what is known as "heat soak test". This test eliminates 99% of spontaneous breakage cases that can occur with toughened (tempered) glass. In structural glass balustrades, a case of spontaneous breakage can be very dangerous and will also make replacing the glass very expensive, this will usually outweigh the cost of having the glasses heat soak tested and so it is advised to do so.
Weight and Self-Imposed Loads
When designing a structural glass balustrade, one must take into account the weight of the system and the load the system imposes on the balcony or structure, in addition to any other load requirements. A typical structural glass balustrade that uses 15mm thick glass will weigh in the region of 55-60 kg per linear meter and so a ten metre long structural glass system can be over half a ton!
Handrails and Top Capping
A range of handrails can be used with this type of balustrade, from the simplest "U" capping to fancy elliptical stainless or anodized aluminium handrails. It is important to have a handrail that both looks nice on top of the glass but also has some strength in the shape of it to be able to bridge a gap should one of the glass panels break.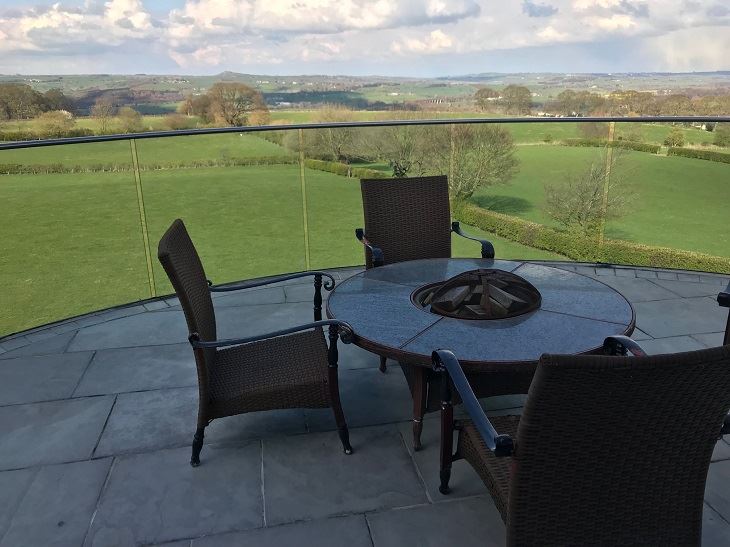 Structural advice
Countless systems and methods exist to implement structural glass balustrades and thy all employ the same basic principle of transferring the load through the glass to a sturdy base channel. Because these types of systems require detailed design and may vary in fixing dramatically, from site to site, it is strongly advised to involve a structural engineer before choosing a system, fixing method and glass.
Summary
A balcony or terrace with a limitless ability to have just glass as a barrier without the need for any vertical metal elements, does not suit every pocket or site conditions but when designed properly, is one of the more aesthetic balustrade solutions that exists.