FRAMELESS GLASS BALUSTRADES
FRAMELESS GLASS BALUSTRADES
Tech Specs | Installation | Gallery | Projects | Reviews
The SG12 system comes in two options Semi-Frameless and Fully Frameless.
FULLY FRAMELESS GLASS BALUSTRADES
The Fully Frameless does not have a handrail on top and uses 21.5mm laminated and toughened glass. Installation of the fully frameless requires more time for glass alignment and positioning as there is no handrail on top to hold the glasses straight. The SG12 Fully Frameless system allows for 100% uninterrupted views without even a handrail line. There are no limitations of lengths or sizes and requires no posts or handrails at all.
Choose below the number of sections on your balustrade for an instant online quote.

SEMI FRAMELESS GLASS BALUSTRADES
The Semi Frameless has only a handrail on top and uses 21.5mm clear toughened glass. The handrail options are either a beautifully designed elliptical handrail or a small rectangular handrail. The SG12 frameless system allows for uninterrupted views without limitation of lengths or sizes and requires no posts at all.
Choose below the number of sections on your balustrade for an instant online quote.
STRUCTURAL GLASS BALUSTRADES - TYPES AND METHODS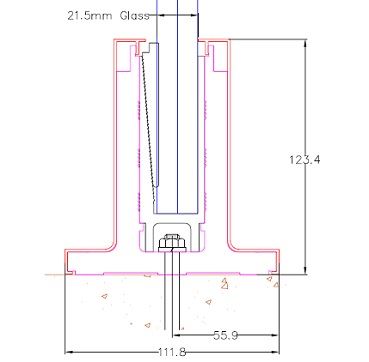 When the glass of a balustrade is not just used as an infill panel but is also used as the actual structure of the balustrade, it is often referred to as a structural glass balustrade. It is also sometimes referred to as a frameless glass balustrade or a cantilevered glass balustrade.
The basic idea is simple and is based on two engineering principles; a strong base that can clamp thick and strong glass panels that can resist the bending moments and loads imposed on it.
FRAMELESS GLASS BALUSTRADES - THINGS TO CONSIDER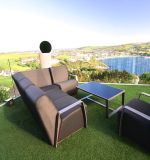 We supply frameless and semi frameless systems. From our customer feedback and our many years of experience in this field, we feel there are some important things to consider when making a choice of type of glass balustrade you wish to install. These are listed in this article below.
Frameless glass balustrades may provide a contemporary look which is ideal for some homes and people but for other it could be a step too far. There is a need for functionality in glass partitions and this may be slightly lost in the some of the modern balustrades. It is a tribute to the design and quality of the new balustrades that many people can mistake them for not being present but if it makes people feel uncomfortable, the addition of a barrier or rail can make a massive difference to the comfort levels of a person.
SEMI FRAMELESS CURVED GLASS BALCONIES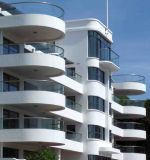 Taking full advantage of extensive views across St Brelades Bay on the Channel Island of Jersey are curved and straight clear glass balconies by Balcony Systems for the prestigious award-winning Chateau Valeuse apartments.
For the architects at Naish Waddington, clear glass balustrading was a key design element. The strong semi-circular balconies are sculptural, dramatic and functional.