Shared Balcony Dividers
Glass Balustrades | Juliet Balconies | Curved Glass Doors | Decking | Projects | Galleries | Articles | Reviews
Relaxing on your balcony with a morning coffee is one of life's simple pleasures. Sit in peace as you watch the world go by, what bliss! That is unless you share your balcony with your neighbours. Chances are that if you have a shared balcony, you feel reluctant to use it. Especially when you're wearing PJs and sporting a less-than-stylish bedhead.
Which is where shared balcony dividers can help.
How do you divide a shared balcony?
There are lots of ways to divide a shared balcony. But before you invest too much time in investigating options, check the T&Cs on your freehold. Some apartment blocks restrict your options for dividers and fencing. Once you've checked your T&Cs, it's time to get started.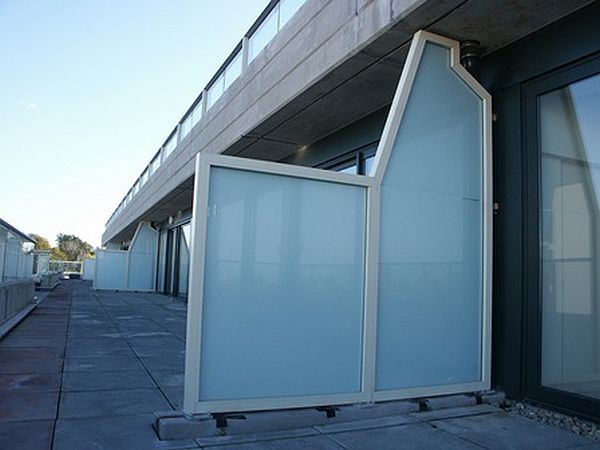 Plants are an adaptable way to divide a balcony
Plants are a super choice for quickly dividing a shared balcony, especially if you choose something tall and comparatively dense such as potted bamboo. Not only will this give you and your neighbours extra privacy, but plants add an extra sense of calm to your balcony. Plants can get expensive, especially if you have a deep balcony to divide. Their longevity depends on how well you care for them. Plants on balconies need to be watered generously and regularly to keep them in tip-top health. Plants that are dried out and unhealthy won't make you feel like relaxing on your balcony one bit!
Fabric screens are a cost-effective way to divide a shared balcony
Beaded curtains or fabric screens are an adaptable way of adding privacy to your shared balcony. You can pull them out to add privacy when you want it and then pull them back to share a sundowner with your neighbour – perfect if you and your neighbours are the sociable type. These semi-permanent balcony dividers are a simple and inexpensive way of dividing a shared balcony but don't provide meaningful privacy. Are they right for you? It depends on your budget and your relationship with your neighbours.
Wooden fencing is an accessible way to divide a balcony
Wooden fencing is a popular choice. Adaptable, easy to install and inexpensive, wooden screening can work in a number of ways. Use it as a trellis to grow plants against or as a solid wooden fence. You can even get creative and build seating against your wooden balcony divider. But for all of the positives associated with wooden balcony dividers, they block a lot of the light. They also need ongoing maintenance if they're to stay at their best – is your neighbour willing to give their side of the divider the right level of maintenance to keep it at its best?
Glass privacy screens are a popular choice for dividing shared balconies
Glass privacy screens are becoming increasingly popular. They're a bigger investment than wooden fencing but will last you for years to come and need minimal maintenance. Use frosted privacy glass and you'll benefit from complete seclusion but will benefit from light filtering through the glass. Grow your plants against a glass balcony divider and you'll benefit from an even greater sense of seclusion. What's more, a glass balcony divider will help protect your area of the balcony against wind and rain, making it an even nicer spot to sit out and enjoy the view from.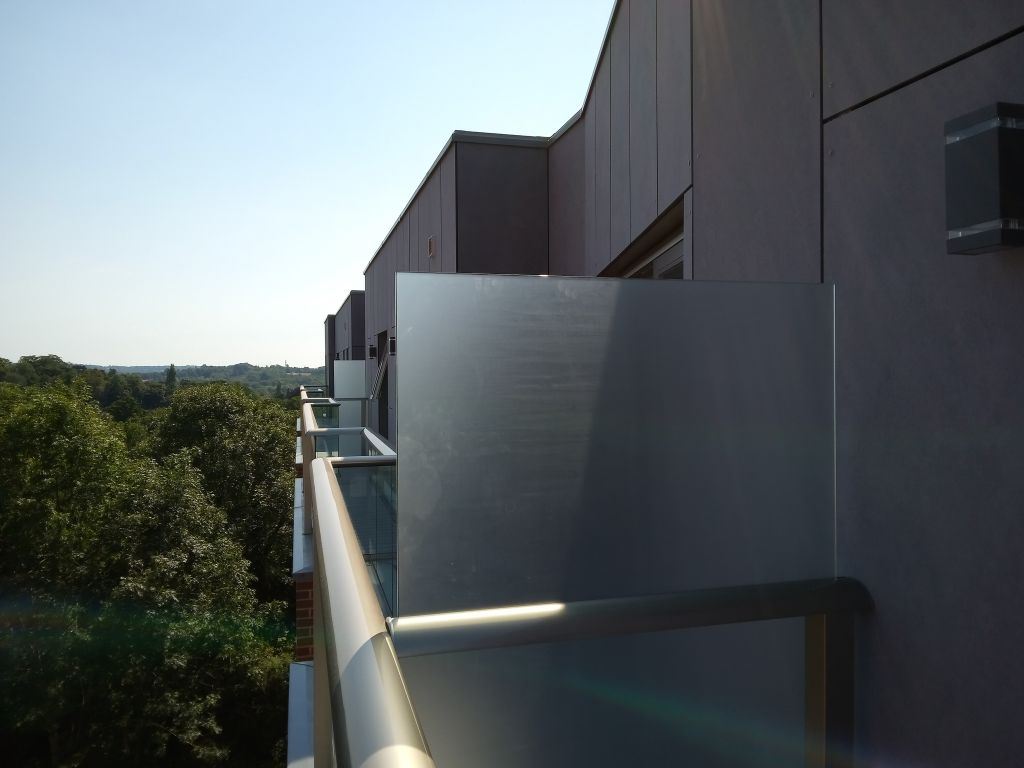 Glass balcony dividers from Balconette
Choose your 'glass balcony dividers' from Balconette and you'll enjoy more than seclusion while you sip your morning coffee. Here's why:
Each 'glass balcony divider' comes with a 10-year guarantee on its paint finish and joint strength, including shape and impact strength retention, so you'll be able to rest easy knowing your privacy is assured for many peaceful moments to come.
Balconette's 'glass balcony dividers' can be made to fit any depth of balcony and are easy to order. Call our helpful Customer Services team with your details and they'll be happy to assist you.
Each 'glass balcony divider' is made with 10mm satinised (opaque) toughened safety glass.
You can choose from our range of Aerofoil Infinity Screens or Orbit Privacy Screens as your 'glass balcony divider'.
'Glass balcony dividers' from Balconette are made to the highest quality and are easy to fit. You can download instructions and technical specifications from our website for free. Need more support? Our step-by-step videos are on hand to help you install your privacy screen.
You can make the most of your free time by ordering an Infinity screen or Privacy screen coated with BalcoNano® self-cleaning glass coating. It takes the elbow grease out of cleaning glass and will mean you and your neighbour can enjoy a sparkling clean 'glass balcony divider' with very little effort.
Find out more about our range of 'glass balcony dividers' here.