Glass Balustrade in Herefordshire
Glass Balustrade in Herefordshire
Glass Balustrades | Juliet Balconies | Curved Glass Doors | Decking | Projects | Galleries | Articles | Reviews
Gill and Ronald Webb - Herefordshire
Our Balconette balustrade is more social with a handrail; people lean on it and have a chat
Keeping beautiful views over three counties from the patio decking at their Herefordshire home was of paramount importance to Gill and Ronald Webb - and their smart Balconette balustrade fits the bill perfectly.
With the advent of better weather and easing of restrictions, this Balconette Aerofoil Glass Balustrade System helps to create a social space on patios where guests can lean on the sturdy wing-shaped handrail, chat and admire the view.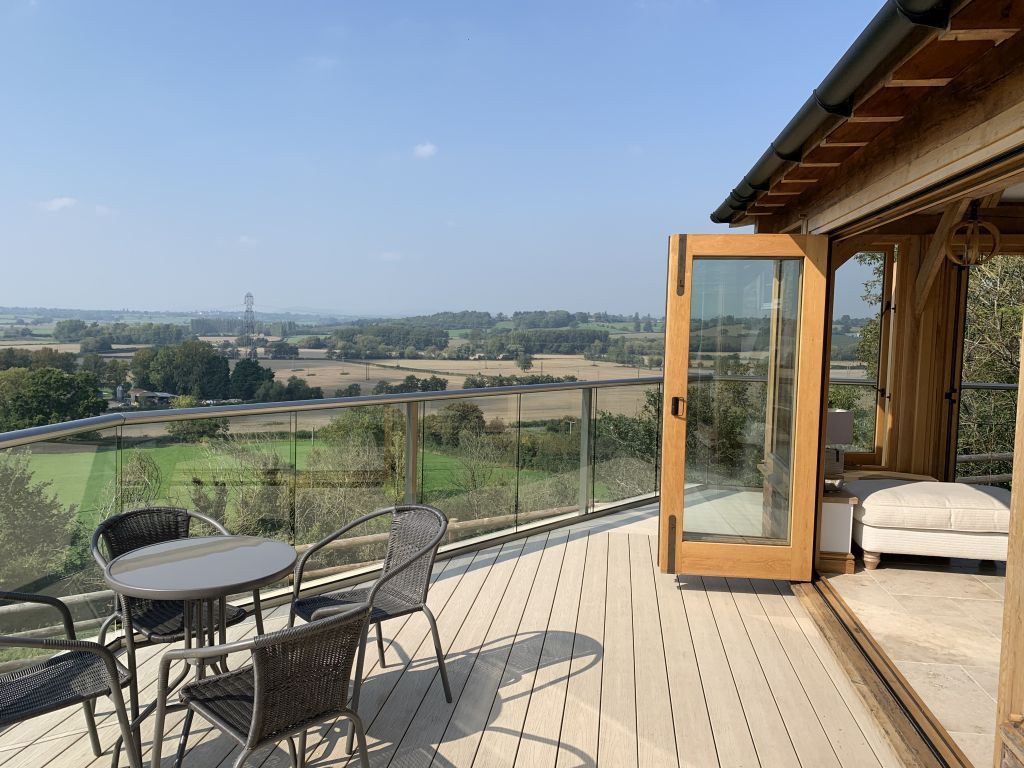 The patio, complete with table and chairs, flows around a recently built orangery and is accessed via two sets of bi-fold doors.
"We needed a balustrade to protect the five-foot drop to the garden below, but I didn't want bannister rails or spindles as these would spoil the nice view. I wanted something that would blend in, but wouldn't obstruct the view, which is why this is absolutely perfect," says Gill, who discovered Balconette browsing the internet and is now a Balconette Ambassador.
Although at first undecided whether to have a frameless balustrade system or one with a handrail, Gill is glad she opted for the latter. "With the rail on top, we do find that people tend to lean on it, look at the view and have a chat. It's more social; so, I'm pleased we went with the handrail option."
Having spoken to the Balconette team about their requirements, the couple ordered the Aerofoil glass balustrade, which was fitted by their local builder. They also specified Balconette's BalcoNano® self-cleaning glass coating, which 'makes it pretty much maintenance free, it stays clean and tidy for quite a while'.
The 12 metres of glass balustrade features obtuse angles that follow the irregular shape of the patio, amply demonstrating the system's versatility. The handrail and base track are in Balconette's resplendent Royal Chrome finish.
In their Balconette Ambassador roles, Gill and Ronald are happy to host visits at their home near Hereford from prospective purchasers wanting to learn more about Balconette's products first-hand from customers. "The balustrade generates a lot of interest, a lot of people say, 'this is lovely, where did you get this from?'. A nearby neighbour who came to see it has also ordered from Balconette."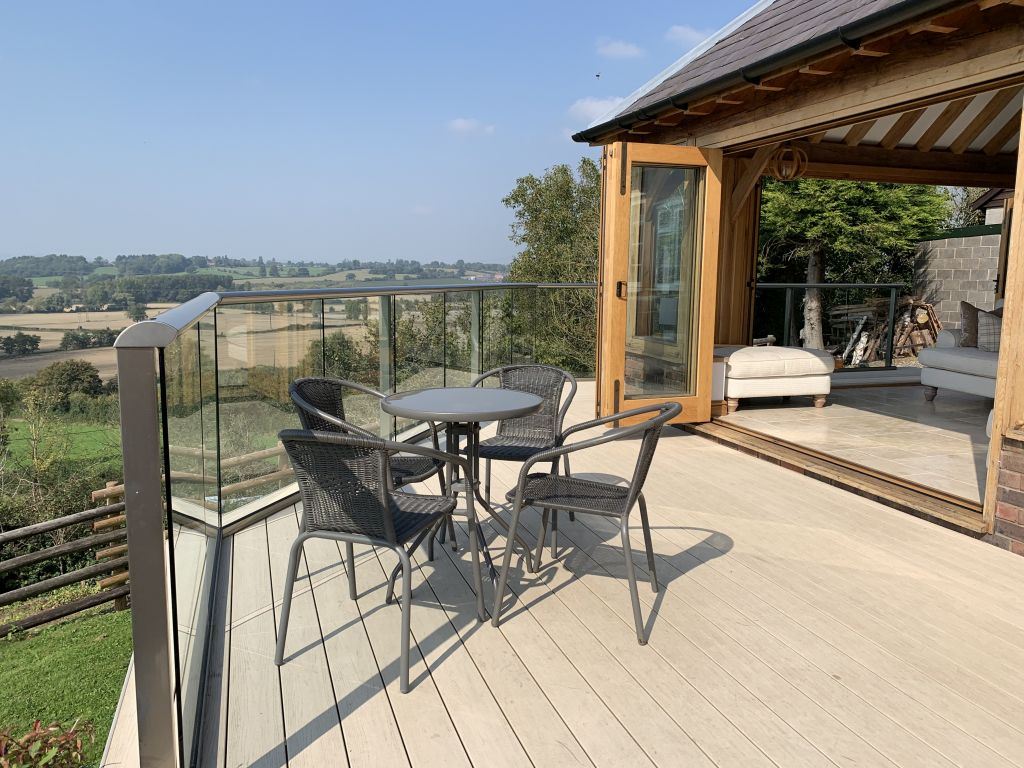 Gill concludes: "The balustrade does look nice and gives a good finish to the whole project. As we are quite high up, we get a great view across Herefordshire. If we have people here on New Year's Eve, we all go out on the decking, lean against the balustrade and watch the fireworks. It is perfect viewing for New Year's Eve!
"We've got the security, it's safe but we've also not lost the view, which was the main thing we needed more than anything really.