BALCONETTE – IN GLASS FOR SECURITY, BEAUTY AND EXTRA INTERNAL LIGHT!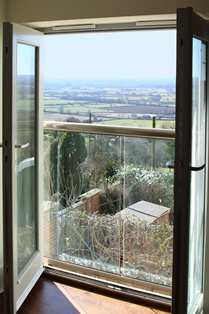 THE GLASS BALCONETTE: MORE LIGHT, MORE STYLE
A balconette is a shallow balcony with no "floor" that allows you to open safely a French door and lean on something without falling out. Our balconettes are made of toughened glass and are becoming more and more popular due to the low cost and the increase in natural light it brings to a property. When the addition of a full balcony is not feasible for practical or financial reasons, a balconette brings the majority of the best points to a project at a fraction of the cost and hassle:
Our balconette allows you to have inward-opening French doors or patio doors on upper floors. This means more light, better views and a greater feel of spaciousness in bedrooms and apartments, from the smallest and most confined to the most expansive.
Also known as a French balcony, a Juliet balcony or a Juliette balcony (same thing just different spelling) after the classic romantic balcony scene in Shakespeare's Romeo and Juliet, this great architectural feature can provide the above advantages relatively simply and economically. Our glass balconette can be fixed to a building with few, if any, structural problems and at a pleasingly low cost.
BALCONETTE DRAWBACKS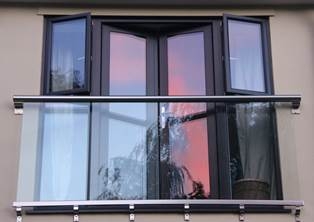 Many balconette designs have the drawback of clamps and bolts, railings and a supporting steel framework. These extra attachments can detract considerably from the overall look and style of a home or apartment building.
Due to our innovative design and construction, our balconettes are strong and economical. They also tend to disappear from site, leaving more light to flood into the interior and less to distract from outside which leaves little to spoil the view or the look and character of a building.
INNOVATIVE BALCONETTE DESIGN
The design of our glass balconette enables you to have greater spans of glass uninterrupted by supporting posts or ugly clamps and lugs, as the picture gallery of our juliette balcony installations shows. It brings you lots of extra advantages: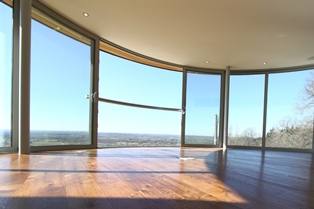 Your project benefits from more light and sense of space and less interruption of your views.
Glass complements both the interior of your bedroom or apartment and the exterior design and style of the building.
Our strong, light balconette models are straightforward to install.
Our balconette designs are versatile. An incredible 112 models with eleven (11) Fast-Track sizes and the option of custom-made balconettes provide a broad range of choice in terms of your glass balconette's design and colour scheme.
Our systems are highly competitive in terms of the cost to buy, install and maintain, compared to many other balconette systems.
Once installed, they are virtually maintenance free. The materials are almost completely immune to the elements. They only require a bit of cleaning, which is really easy if you opt for our self-cleaning glass.
SUPERB CUSTOMER CARE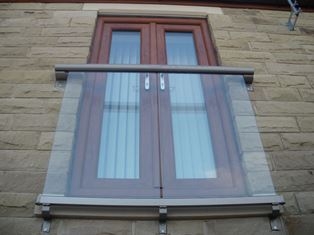 Along with our fabulous range of economical off-the-shelf choices and our ability and willingness to customize a bespoke balconette system for you, we have people on hand to who are knowledgeable and willing to answer your questions to make your new build or improvement project as stress-free as possible.
We also provide downloads and videos to assist with relatively simple installation of your balconette.
Please contact us with any enquiries you have concerning the choosing, ordering or installation of our balconettes today!