STATE-OF-THE ART FRENCH BALCONY
THE GLASS FRENCH BALCONY: MORE LIGHT, MORE STYLE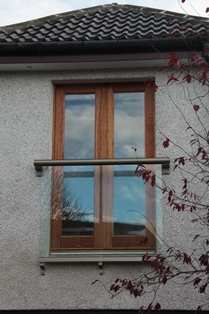 The French balcony is a popular architectural feature in France and catching on fast in England, for very good reasons. A French balcony is also known as a balconette or Juliet (or Juliette) balcony after the classic balcony scene in Shakespeare's Romeo and Juliet. This is a simple balustrade that allows an upper-level window to open to the floor safely. It is a balustrade that goes in front of a window but without the deck or "floor" of a balcony. Ours are made of toughened glass.
Where the addition of a full balcony is not feasible for practical for financial reasons, a French balcony yet provides almost all of a balcony's most desirable features.
It allows you to have inward-opening French doors or patio doors on upper floors. This means more light, better views and a greater feel of spaciousness in bedrooms and apartments, from the smallest and most confined to the most expansive.
A French balcony can provide the advantages of space and light relatively simply and economically. It can be fixed to the building with few, if any, structural complications and at comparatively low cost.
MOST FRENCH BALCONY DRAWBACKS
Many French balcony designs have a drawback: the presence of clamps and bolts, railings and supporting steel framework can make them quite ugly. They can detract considerably from the overall look and style of a home or apartment building.
Technology, however, has moved on and our French balcony innovation has brought into play the natural strength and beauty of glass, combined with the graceful lines of a super-strong aluminium handrail , with little to spoil the view, look or character of a building.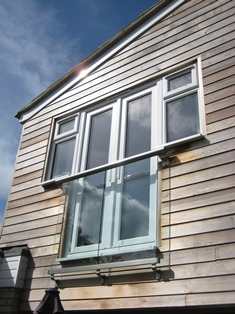 INNOVATIVE FRENCH BALCONY DESIGN
The design of our French balconies enable you to have greater spans of glass uninterrupted by supporting posts or ugly clamps and lugs, as the picture gallery of our juliette balcony installations shows. It brings you as well a host of additional advantages:
SUPERB CUSTOMER CARE
We back up all these advantages with something else our customers find important: first-class customer support.
You will see as you explore this website that among the versatile range of choices and options, we provide a great deal of help and guidance. This extends from simple downloads and videos on how to install your Juliet balcony to full technical details and specifications to help you, your builder or architect with the finer details.
Even more, we are always on hand – just an email or phone call away - to answer promptly any questions you may have concerning any details of the design, specification, costing, delivery and installation of your French balcony.
The advantages of our French balcony systems are many and considerable and we combine our state-of-the-art Juliet balcony designs with ease of installation and responsive customer care from the very earliest stages to final installation.
To find out more about our French balcony products and service please browse this site and feel free to contact us if you have a question or would like to find out more, contact us here.