BALCONETTE MILANO VERTICAL RAILING SYSTEM (METAL RAILINGS)- TECH SPECS
Milano Vertical Railings (Metal Railings) - Tech Specs
Tech Specs | Surface-Mounted | Side-Mounted | Gallery | Reviews
Milano Railing System - Technical Materials Specification
Balustrade and base structure:
6063 T5 & 6063 T6 extruded aluminium profiles
Powder Coating or Anodising:
Colour options available for Hybrid Systems (Orbit & Aerofoil)
15 micron high-quality anodising in Matt Silver, Matt Bronze or "Royal Chrome" finish
60-100 micron Polyester powder coating in white colour
60-100 micron Polyester powder coating in RAL colour options available for large projects only.
Vertical Posts & Mounting Brackets
6063 T5 extruded aluminium profiles
Design Criteria
Permitted Loading:
Loading is taken from Table 2 of BS 6180:2011 Barriers in and about buildings – Code of practice
A copy of this table can viewed here: Table 2 Minimum horizontal imposed loads for parapets, barriers and balustrades.

Residential (Covers occupancy types i, ii, ii, iv, v, viii & ix shown in Table 2 above)
Horizontal uniformly distributed line load (at 1.1m handrail height) - 0.74 kN/m
Uniformly distributed load applied to the infill - 1.0 kN/m2
A point load applied to part of the infill - 0.5 kN
Structural Calculations
The Structural calculation below includes the calculations for both surface mounted and side mounted options.

Milano Vertical railings Structural Calculations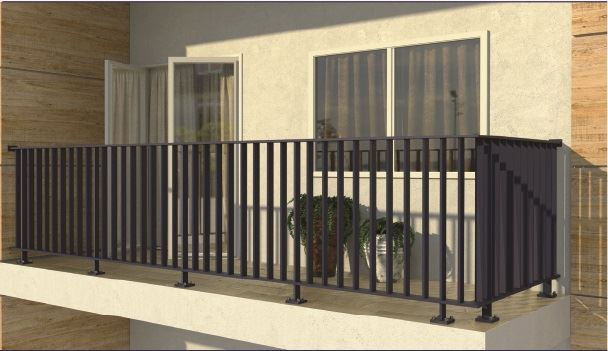 Picture above: Surface mounted Milano railing system